Läste i GP idag att stroke lätt kan förebyggas enligt
en ny studie. Forskarna har kartlagt de största
riskfaktorerna men missat att skriva hur farlig en
hormontablett kan vara om man är APC resistent. Varför
tas inte det upp i forskningen? Mitt tips är att gå till en vårdcentral
och be sköterskan ta ett stick i fingret för att se om man är APC resistent
eller inte. Därefter kan man besöka en läkare.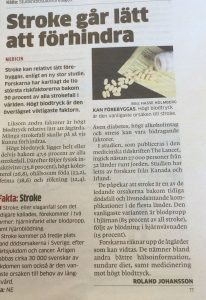 Jag själv fick en stroke 2006 av en hormonbehandling.
Höll på att dö på  kuppen. Otäckt att läkaren som skrev
ut hormontabletten inte ens  bemödade sig att innan han skrev ut
medicinen kolla om jag var APC- resistent eller inte.
Hur kan det hända att en legitimerad läkare
kan göra så? Antagligen är det en som inte har medicinsk utbildning eller så
är det en sadist.
Inga kommentarer
RSS feed for comments on this post.
Sorry, the comment form is closed at this time.